Ideas for a group holiday on Great Barrier Island
Six days of walking and other group activities on Aotea/Great Barrier Island
Day 1: Take a short walk where you are staying.
Once arriving on Aotea, get checked into your accommodation and if you fancy a a short walk to ease you into the week ahead here ar some great suggestions of short walks by location.
If you are staying in Tryphena, consider heading down to Cape Barrier to checkout one of the walks (Dolphin Bay, Island Bay or Whalers and Ruahine Lookout). Each walk is less than 3 hours return and offer a unique perspective from this area of the island with views across to the Coromandel Peninsula. The mainland is a lot closer than you might think!
For Whangaparapara check out the Old Mill Track or head up the Tramline track to find the Kauri falls.
Day 2: Windy Canyon to Port FitzRoy or the Hotsprings.
Spend your first day heading into the Aotea Conservation Park, head in through Windy Canyon Look out along Palmers track to reach the summit of Hirikamata. You can either take the South Fork and Peach tree track back south to the hot springs. Soak in the hot springs and or head along the Kaiaraara Track back out to Port FitzRoy . If you have a few in your group that aren't as keen on a full day walking this allows then to see the North of the island, head to Whangapoua beach to visit the SS Wairarapa Graves or take a look at some of the short loop tracks about Port FitzRoy.
Day 3: Rest your legs – Let the our local guides show you the island.
Head out on a full/half day sight seeing or fishing charter with Hooked on Barrier. Our local skipper Chris will take you out on an adventure up the West coast of the island, through the Broken Island's and his knowledge about the Hauraki Gulf fisheries.
If the skies are clear get in contact with our local dark sky sanctuary guides and head out on a tour with Good Heavens . Wrap up warm and from Medland's beach they'll take you on a journey through the galaxies using a telescope and binoculars. An experience that will leave you feeling inspired and very small!
Day 4: Back on the tracks!
Head to Harataonga Bay – a destination in its own right, this beach is much loved by locals and visitors alike. The Harataonga coastal walkway offers a 4-5 hour walk one way connecting Harataonga to Okiwi basin . This is an easy walk compared to the conservation park with, with few steep grades through regenerating bush and offering magnificent coastal views.
Day 5: Explore Aotea/Great Barrier Island's art and heritage
Starting in Tryphena head to Shoal Bay Pottery near the ferry wharf to meet friendly and talented potter, Sarah. Purchase some pottery, the perfect gift or souvenir from your time on the island. Sarah's shop is always open and has an honesty box system.
Next, head to the opposite side of the bay along Puriri Bay Road, past the Lady Isla, a reminder of the islands commercial fishing fleet. This will lead you to the Elephant Gallery, open through the summer with a wide range of art and craft from on and off island creatives. Towards the end of Schooner Bay road you'll find the Black Cow Gallery, Peter Edmonds and Fenella Christians workshop and gallery, this creative couple produce stunning artwork and magnificent wood carving from spoons to ornate wall hangings.
In Claris you'll find the Milk, Honey & Grain Museum where you can gain insight into the island's rich early settler history. Plus the Aotea Community Art Gallery provides exposition and retail space for a wide variety of arts and crafts from locals or artists with a local connection.
Just across the road from the above gallery, you will find Patina, where Vivian, Daniel and Lenka have teamed up to show off and sell their skills in working with copper and wood. The copper kina are to die for.
By the afternoon. If you fancy completing another track in the afternoon to lift your heart rate, head to the start of Te Ahumata track, starting at Okupu or Whangaparapara Road.
Day 6: Enjoy the last of your moments in our slower pace of life
Head to Medland's beach for a long walk or swim in the mermaid pools of these stunning spots before leaving this slow island paradise.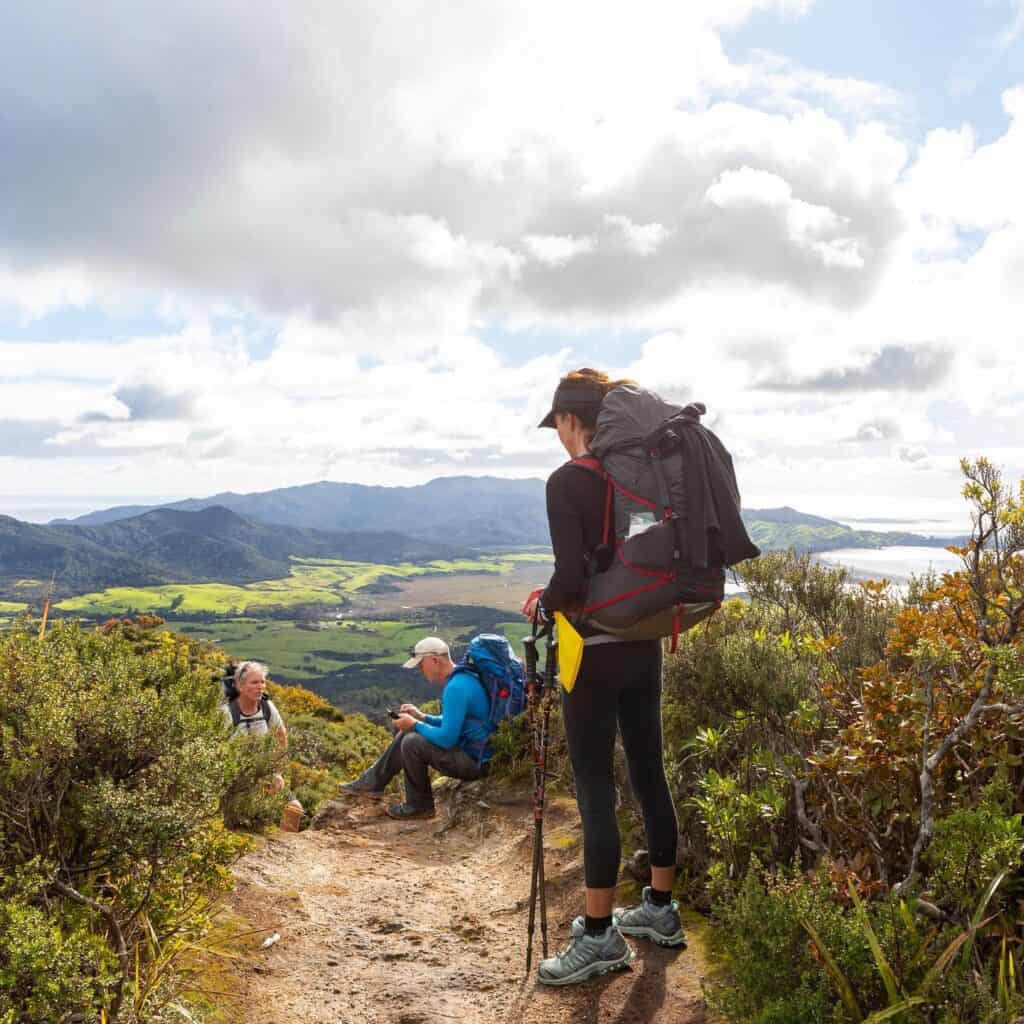 Accommodation suggestions
Great transport and tour options
Great eating out options – We highly recommend booking ahead for large groups
Breakfast/Lunches: Great Barrier Lodge, My Fat Puku, Pa Beach Cafe, Mulberry Grove Cafe
Burgers: Port FitzRoy Burger Bar or Swallow
Dinner: Currach Irish Pub, Barrier Social Club, GBI Sports Club, GBI Lodge, My Fat Puku during the summer, Angsana Thai restaurant