Port FitzRoy is the largest natural harbour within the Hauraki Gulf and Aotea/Great Barrier Island is a boaties paradise.
You can find the 2021 Auckland Marine Services Directory here.
Essential information for boaties visiting Great Barrier Island
Water – Available at Whangaparapara and Port FitzRoy Wharves
Fuel – Available at 24 hours at Whangaparapara Wharf (Run by Great Barrier Lodge) and Port FitzRoy Wharf (Run by Port FitzRoy Store – contact for opening hours)
Transport – There are both car rental and passenger transport services that can, by prior arrangement, pick up and drop off passengers to wharves and coastal locations on the island. Beware that you may not have signal around the island and it gets busy during the summer months, so it pays to book transport well in advance.
Waste disposal – Aotea/Great Barrier Island is on a zero waste mission. There are no longer any public bins on the island. Learn about how you can dispose of your waste here.
First and foremost please strongly consider taking your waste home with you and not leaving it on the island.
Dog exercise areas – Dogs are prohibited on all Department of Conservation land including tracks and campgrounds, this means there are no beaches or spaces to exercise dogs in Port FitzRoy Harbour. To find out where dogs are allowed off a leash and under control click here.
Essential Numbers
Maritime Radio
04 914 5663
Coastguard Northern Region
09 303 1303
or cellphone
*500
Auckland Harbour Master
09 362 0397
Marine Radio – VHF Channel 1
This service was previously run locally by the GBI marine radio, this is no longer the case and this channel puts your through to the central Auckland Coastguard.
Coverage is now 24 hours.
Please be prepared to give them your vessel name and call sign.
Please note they do not have Aotea Great Barrier Island local information like fuel stops, store opening times etc so we recommend looking this up online or calling operators directly.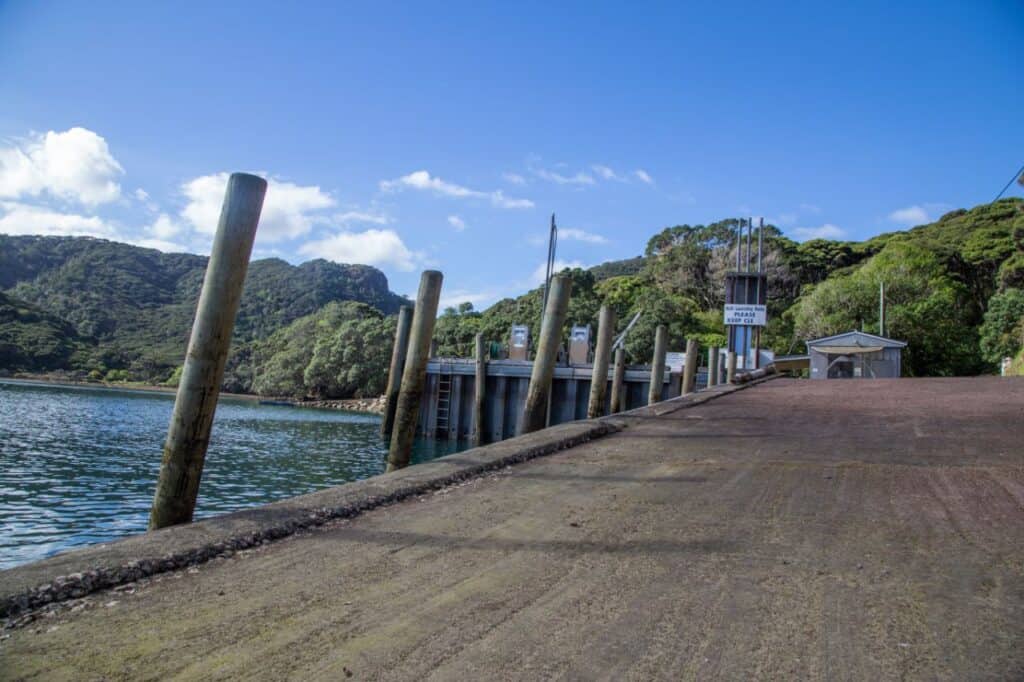 Moorings available for hire – You'll find a list of private mooring owners here to get in touch with.
Fishing Restrictions
The Hauraki Gulf is in decline, it is important you know your catch limits and restrictions – for full details from Ministry of Fisheries – click here

Check out the NZ Geo website for a full debrief on how our Tīkapa Moana (Hauraki Gulf) is faring. Including Snapper, Crayfish and other at risk species. The impact of fishing on breeding stock and endangered seabirds. Invasive species to look out for, and the impact of terrestrial practices on our fisheries.

You can find the 2020 State of our Gulf Report here.