Port FitzRoy is the largest natural harbour within the Hauraki Gulf and Aotea/Great Barrier Island is a boaties paradise.
You can find the 2021 Auckland Marine Services Directory here.
Essential information for boaties visiting Great Barrier Island
Water – Available at Whangaparapara and Port FitzRoy Wharves
Fuel – Available at Whangaparapara Wharf (Run by Great Barrier Lodge) and Port FitzRoy Wharf (Run by Port FitzRoy Store)
Transport – There are both car rental and passenger transport services that can, by prior arrangement, pick up and drop off passengers to wharves and coastal locations on the island. Beware that you may not have signal around the island and it gets busy during the summer months, so it pays to book transport well in advance.
Waste disposal – Aotea/Great Barrier Island is on a zero waste mission. There are no longer any public bins on the island. During peak summer months (19 December 2020 – 6 Feb 2021) there will be pop up rubbish collection on Port FitzRoy Wharf Tuesday to Saturday. Council rubbish bags will be available to purchase using EFTPOS only. Clean and sorted recycling can be disposed of at this point for free. Learn more about how you can dispose of your waste here. If these options don't work for you, you will need to take your waste home with you.
Dog exercise areas – Dogs are prohibited on all Department of Conservation land including tracks and campgrounds, this means there are no beaches or spaces to exercise dogs in Port FitzRoy Harbour. To find out where dogs are allowed off a leash and under control click here.
Essential Numbers
Great Barrier Marine Radio
09 4290 281
Maritime Radio
04 914 5663
Coastguard Northern Region
09 303 1303
or cellphone
*500
Auckland Harbour Master
09 362 0397
Great Barrier Island Marine Radio – VHF Channel 1
GBMR takes trip reports, provides local information, plane and ferry timetables etc. Liaison with Police, Health, Rural Fire and Department of Conservation.
Marine Weather Bulletins rebroadcast each day at approximately 07:45 and 17:45.
Coverage Aldermans to Tutukaka and out the back of Aotea/Great Barrier Island. Maintaining a listening watch on Channel 16 and monitoring Channel 01, 24/7 10:00pm – 07:00am. Emergency transmissions only.
Operating on solar power only. Carelessly stowed microphones can block the channel and cripple our system.
A non-profit organisation funded by membership subscription. Forms available Ph: 09 4290 281 or email emmygbmr@gmail.com or write to GBMR at Claris RD1, Aotea/Great Barrier Island.
Boat Ramps
There are 7 designated boat ramps on the island – none are on the East Coast although it is possible to launch a boat into the estuary at Whangapoua at high tide. There are wharves at Tryphena, Okupu (Blind Bay), Whangaparapara and Port FitzRoy.
Medlands: Access by the DOC campground.
Suitable high and low tides.
Okupu: By the wharf and at the beach.
Whangaparapara: By the wharf.
North Barrier: Port FitzRoy wharf, Akapoua Bay, Karaka Bay, Whangapoua campground into the estuary at low tide only.
Tryphena:
Intersection of Schooner Bay Rd/Puriri Bay Road.
Intersection of Medlands Rd/Shoal Bay Rd, by the Community Hall.
Mulberry Grove by the school.
Shoal Bay Road opposite the Shoal Bay Pottery.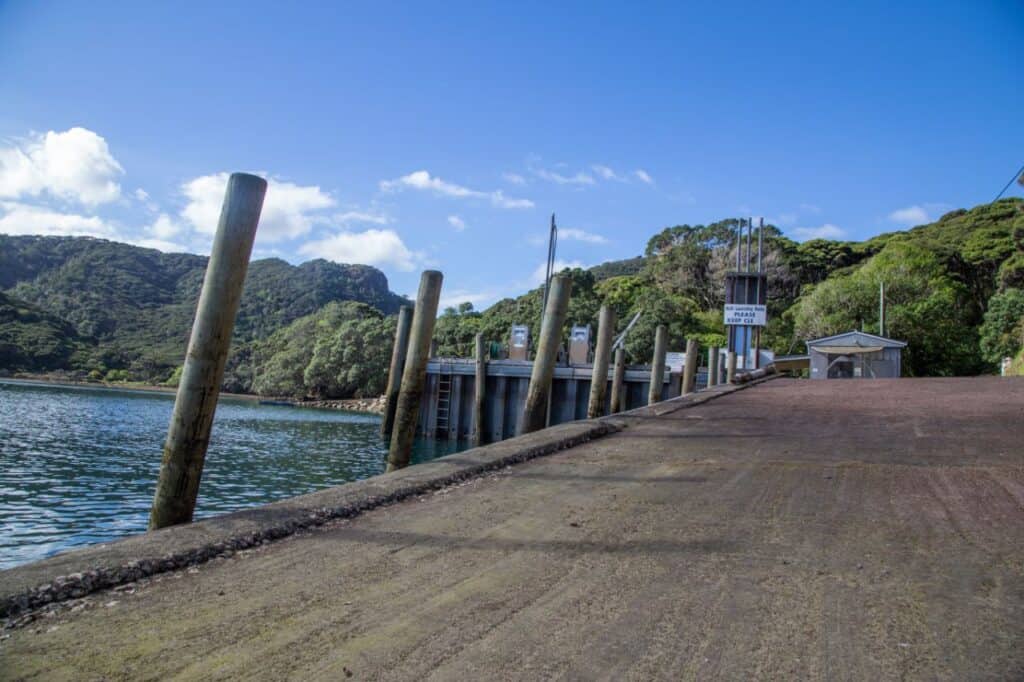 Moorings – Please get in touch with the information centre who may be able to find moorings available for rental
Fishing Restrictions
The Hauraki Gulf is in decline, it is important you know your catch limits and restrictions – for full details from Ministry of Fisheries – click here

Check out the NZ Geo website for a full debrief on how our Tīkapa Moana (Hauraki Gulf) is faring. Including Snapper, Crayfish and other at risk species. The impact of fishing on breeding stock and endangered seabirds. Invasive species to look out for, and the impact of terrestrial practices on our fisheries.

You can find the 2020 State of our Gulf Report here.