Joss Bellerby loves the apple and chocolate scents of her Stonewall Store in Tryphena when she opens up in the morning.
Gerald Endt needs to be in touch with the day – temperature, soil condition and moisture – if his Okiwi Passion microgreens are to be ready in three weeks' time.
Grant Bacon wakes thinking how he's going to fit a mountain of banana boxes filled with groceries in his scheduled Barrier Air planes today.
These are some of the heroes of Barrier's food supply.
Food runs in Joss's family. Her father was a grocer and she ran Stonewall with her sister for many years. A niece is about to take over the day-to-day running.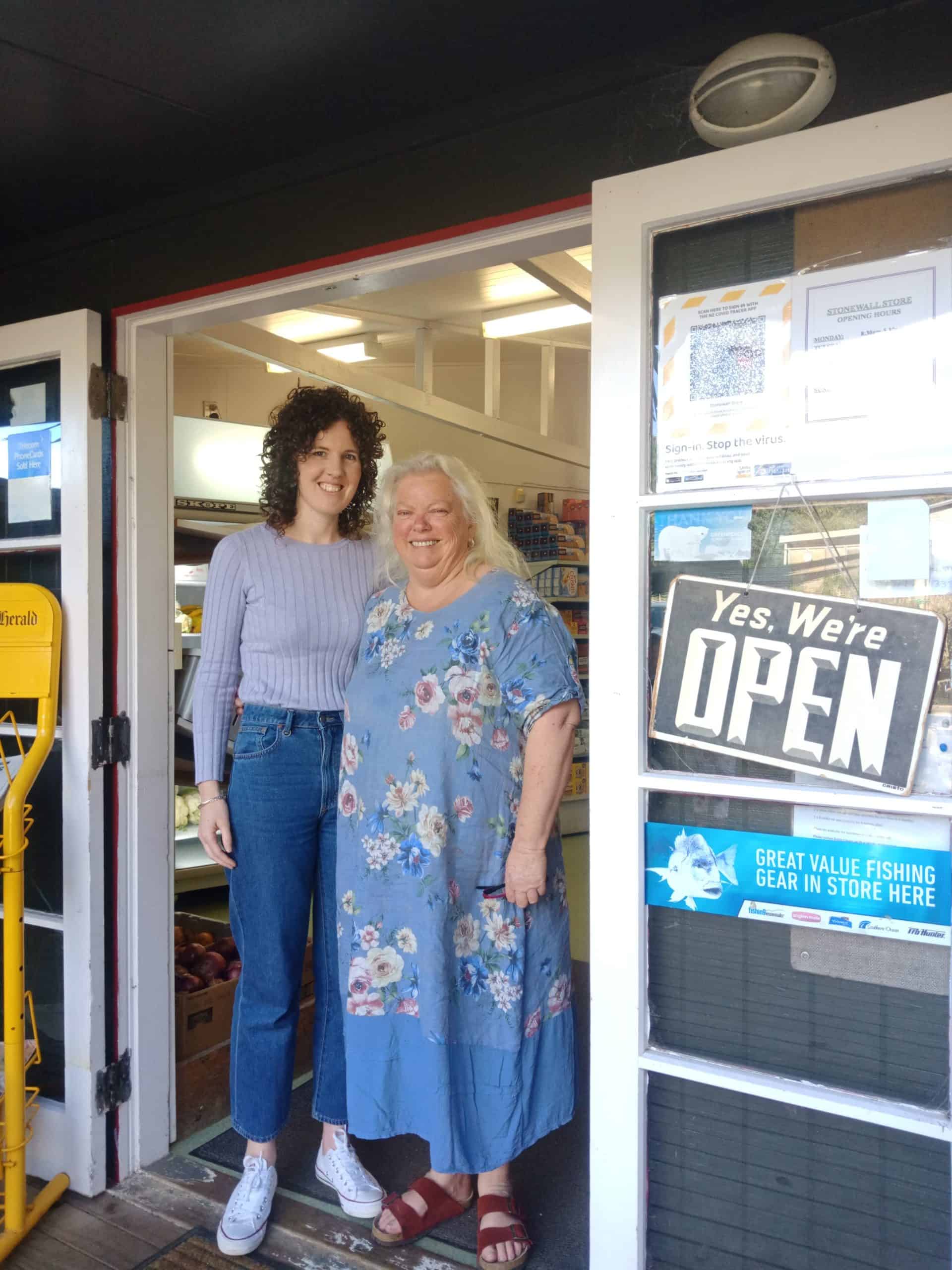 Joss Bellerby and niece, Lydia at Stonewall store
There's a trick in looking at your shelves and knowing what's going to be needed in three weeks. She has 100s of suppliers, often picked for the quality and nutritional value of their products. She only stocks free-range eggs and can fly in 225 trays a week via FlyMySky from a trusted chicken farmer. She chooses dairy from an independent producer and buys cheese in pallet lots to keep prices down. A new chiller bought in Novembers helps her hold stock in case of weather disruptions.
Orders need to be made up to a week ahead for Sealink's Tuesday freight sailing. Getting to, on and from the boat can mean three additional freight charges, so she's very careful on how she orders. Over summer she was filling 30 pallets.
Nine staff work in the shop, usually 10-hour, four-day weeks, often rushed off their feet when everyone else is enjoying their holidays.
Joss says COVID gave customers new appreciation of the quality and prices of what she carries. Nutritious meat and chicken, bulk bins and an extensive range of organic products which she doesn't add premium to. She was one of the first shopkeepers in New Zealand to ban plastic bags after seeing what was washing up on the beach.
She lives simply and locally, not much different than when she arrived on the island in 1981, eating fresh fish and from sacks of rice and beans.  The business has been a slow build, putting profit back in for improvement, as her father taught her. She sees herself as a "money exchange" for the community.
Gerald and Caity Endt supply their microgreen mix to local shops and restaurants, and produce a wide range of fruit and vegetables, sold at local markets and delivered to customers in banana boxes twice a week over much of the year.
They supply 150 families in the height of summer, adding produce from other growers when available, including Darren Gray's coastal spuds and recently "Peter Sporle's gorgeous astringent persimmons."
Their philosophy is to grow high-quality, nutritious food in a mindful way that respects nature and feeds and protects the dark, friable alluvial soils of the Okiwi basin.
Appreciative customers recently responded to a crowd-sourcing campaign that gave them confidence to invest in a new 120m2 greenhouse and PaperPot Transplanter, reducing labour and increasing supply. A walk-in chiller is next on the wish list. Their work has also been boosted by employing Laura, an enthusiastic local, on a subsidised two-year apprenticeship under the government's Mana in Mahi programme.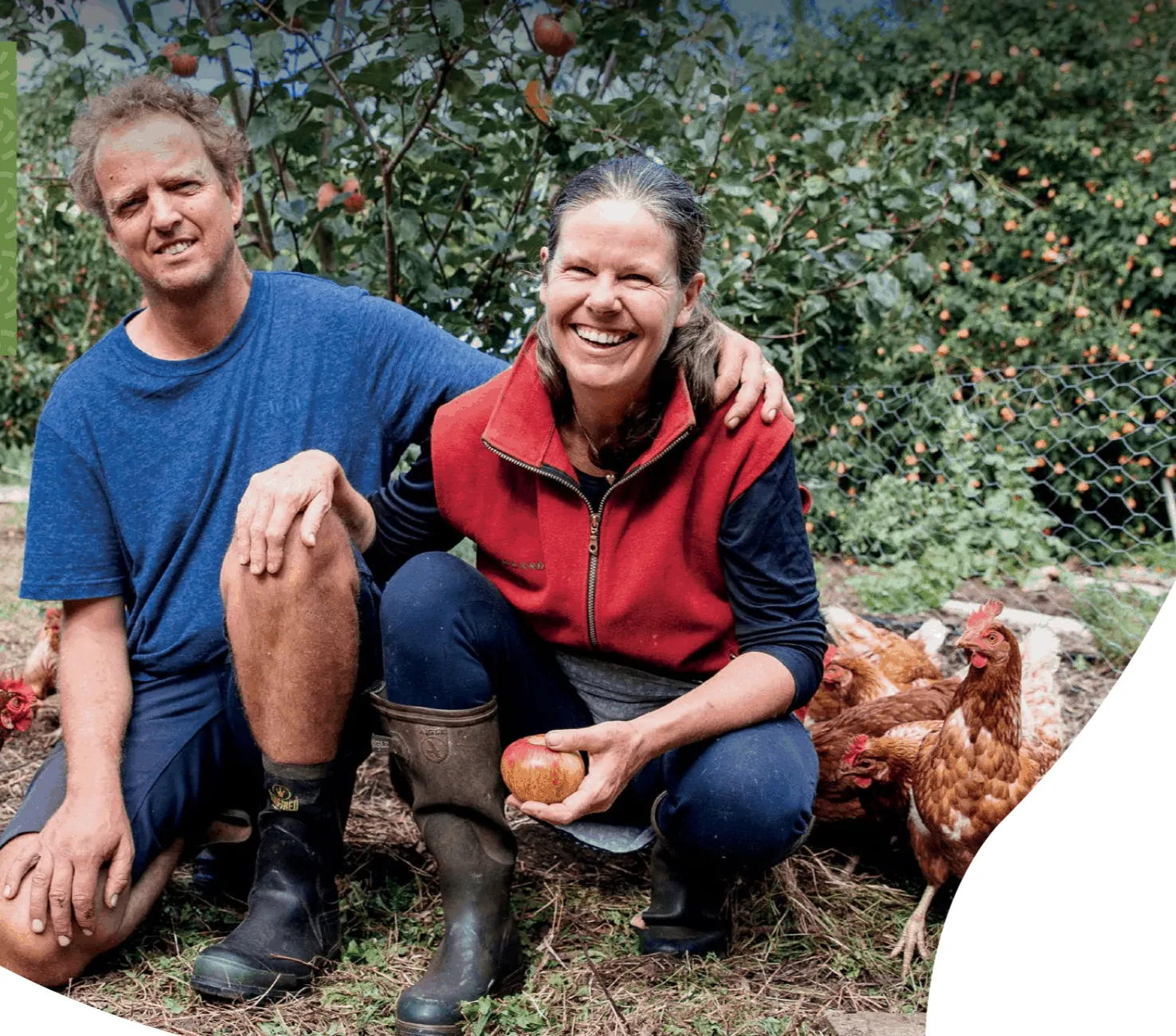 Gerald & Caity Endt of OKiwi Passion (Credit to Auckland Council)
"Here everything we are doing is cyclical," Gerard says. "We put life back into potting mix – ours is full of worms, and worm casts – and eventually it goes back into the soil as amazing compost.
"Modern horticulture works by dumbing everything down, making it sterile, replicable and mechanised.
"Like this community, we need diversity, life and intuition to keep each other in check and balance."
"Tricky" is the first word Grant Bacon uses to describe the challenge of getting food to the island.
On a big day there's 200 banana boxes of groceries – four tonne – waiting for residents, shops, cafes and restaurants. That means juggling it with unsold passenger space or adding freight flights at short notice to his fleet of four – soon to be five – Cessna Caravans.
Grant says it's about being flexible and adaptable.
"COVID was a great learning experience for Barrier Air. As well as showing our vulnerabilities, the team realised we offer an essential service and took a lot of heart from that."
The constraints of the Barrier runways and aircraft size means palletising freight isn't an option. And that means a lot of heavy lifting each day. Recently Grant employed a new female staff member laid off by COVID from another job.
"She's a powerlifter, so uses loading the planes as part of her training. She's been a godsend."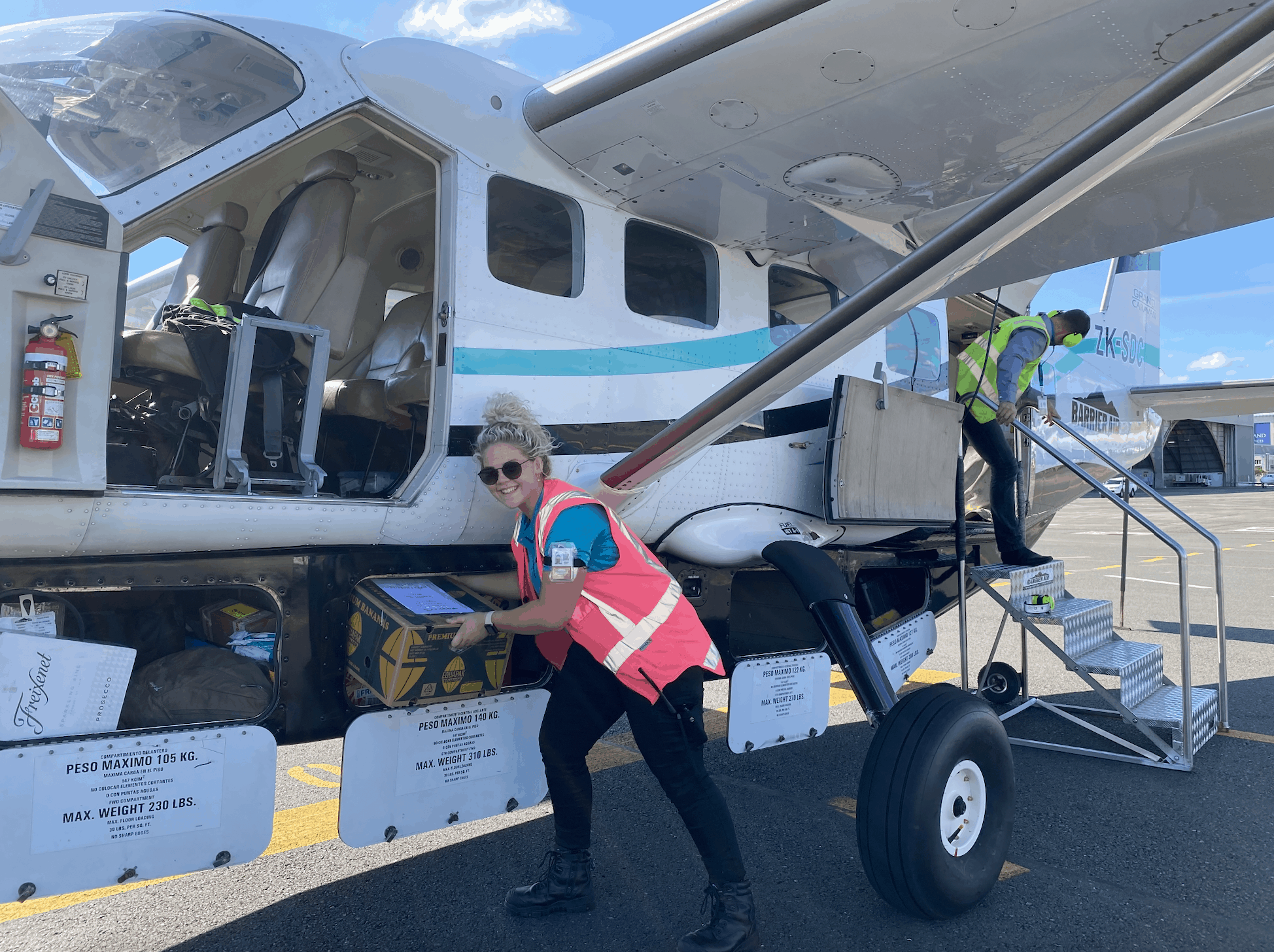 Powerlifter Jess, loading groceries into a Barrier Air Cessna
There's a raft of innovative ways Aotea's residents and suppliers respond to the challenge of eating well on the island.
Many are hunters and gatherers, skilled at putting seafood on the table, or nurturers of productive gardens.
There's a sourdough bread club with loaves baked in a rented commercial kitchen every Wednesday. Collectives in the North and South of the island that order organic products in bulk once a month to distribute around members. And a community garden at Medlands.
This month's Off The Grid Festival (May 7-9) on sustainable living will look at resilient food supply and includes sessions on the potential of a mobile certified abattoir, fermentation techniques and "cooking fish nose to tail.".
Aotea might not be a renowned culinary destination like Waiheke, but it has distinct flavours. A lot of love and attention goes into getting food to your plate.
Written by Tim Higham
Published by Destination Great Barrier Island