Tony Christiansen is the Chair of the Great Barrier Island Historical Research Group Incorporated, which has recently erected The History Hut in Ben Sanderson's paddock next to the radio station in Claris.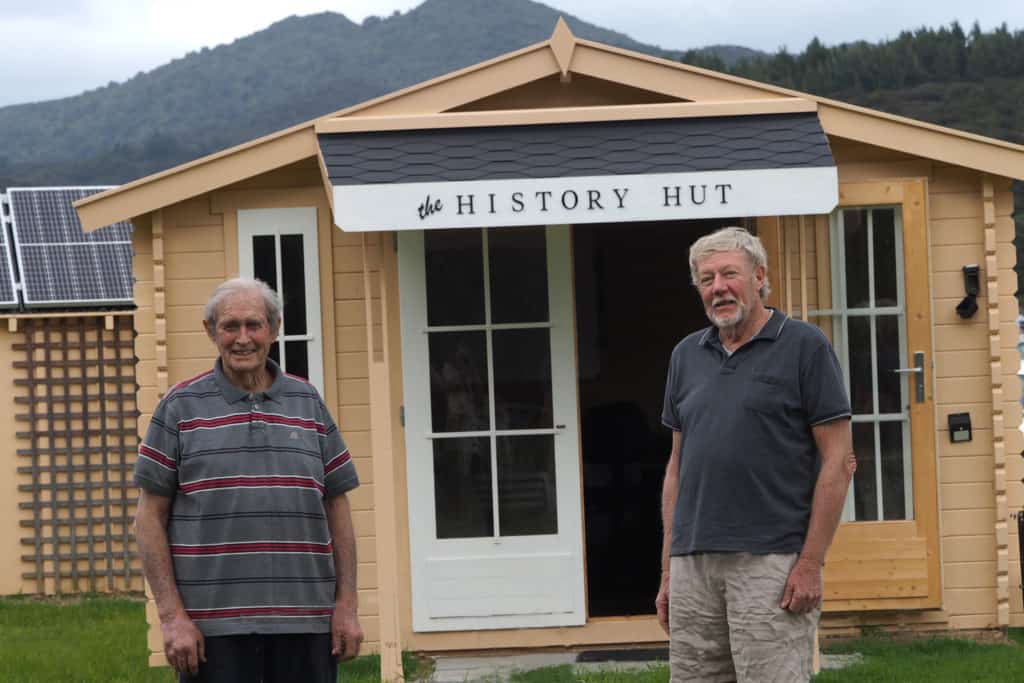 It serves as the archives for the island, with an extensive collection of photos, oral history recordings, books, magazine articles and papers, maintained by "a core group of twelve members, with more welcome" to assist those undertaking family histories and general research.
Tony's interest is in the early European contact with the island, which began with sealers and whalers seeking spars for their vessels. The first was the English Whaler, the Mermaid, which spent three months in Port Fitzroy in 1776-77, the ship's log recording "friendly relations with the local Maori in Port Fitzroy who were at the time quite numerous."
He tells me the first mining operation in New Zealand began in 1842, to extract copper at Miners Head. When the mine closed in 1867, some of the mining families stayed on accepting land in lieu of wages and took up farming.
Kauri was first logged by small operators using bullock teams. From 1926 to 1940 the Kauri Timber Company used tramways, steam haulers and dams to extract the remining harder-to-reach stands, remnants of which can be seen on today's Aotea Track.
Tony sees cautionary tales in much of the island's history: speculative and sometimes contested land sales; boom and bust cycles as copper, silver and gold, kauri, whales and fish were extracted; and competing agendas.
There are grisly stories among the archives, including the killing of Robert Taylor, whose daughter Elizabeth Ann – "a particularly attractive young woman who had a talent for singing and was known locally as 'the nightingale of the Barrier'" – had caught the eye of "self-styled swashbuckling pirate around the Auckland waterfront" John Caffrey. Considered unsuitable by the father, Caffrey visited the family home at the entrance to Tryphena harbour in 1886 with two accomplices to settle matters. After the bloody altercation, he sailed for South America, made landfall at Port Macquarie, to be arrested, deported, and hung in Mt Eden Prison "after a short period of religious conversion."
Ben Sanderson says the story has been passed through generations of his family: Caffrey was an island trader, mainly in firewood – an important early activity – loaded from Caffrey's Bay south of Whangaparapara. The beautiful Elizabeth escaped out the back window and rowed across the Tryphena Harbour to the house of Ben's great grandmother, Eliza Jane Bailey in Puriri Bay.
Ben helped Dave Watson with research for his Milk, Honey and Grain Museum just south of Claris.
Dave first came to the island in the 1960s "entranced by its narrow dusty roads, very few locals, old rickety cars and the clean, cold surf of Medlands."  He started the museum in 2004 "as a new thing to do and it grew."
Around 30 dairy farms once dotted the island's drained swamps, with cream shipped weekly to Auckland. The 1920s and 30s saw a "battle of the wharves" as Shoal Bay and Puriri Bay competed to become the main Tryphena port.
Les Blackwell helped him track down old bee sheds around the island – "there used to be about 25 out in the bush, places where beekeepers would spend a night or two when checking their hives."
Wheat grain was grown and milled for flour for home use. Danthonia grass seed was gathered and threshed for the Auckland market.
Dave has also helped record the hippy era of the 1970s when the island population started to increase sharply, towards its peak of around 1400. His Barrier Baches, Cottages and Shacks – The Essential Coffee Table Bach Book documents its architectural styles and was last year's "best seller" according to Pigeon Post.
Chrissy Young started her private museum in Okupu in 1997.
It began with books and photos from her father, bushman and sawmilling historian Bob Young. It's grown to include bric-a-brac, relics and artefacts she's found and been given, including "a submarine echo sounder, vintage motorbike, acetylene generator and items from the shipwrecked Wiltshire and Wairarapa."
Now she's in the process of downsizing from two buildings to one: Seven banana boxes of timber milling research and old maps have been given to DOC; Māori artefacts are being put aside for a planned museum at Motairehe marae; and other items will go to the History Hut and the Gray House Museum at the Community Heritage and Art Village, which opened in 2019 to house heritage items.
"I opened my museum in 1997 when there were just a couple of private family collections – since then over a thousand people have signed my visitors book."
Ngāti Rehua Ngātiwai ki Aotea's history keepers were profiled in 'Through Fresh Eyes' (www.greatbarrier.co.nz/through-fresh-eyes/)
Written by Tim Higham, with support from Destination Great Barrier Island.