Who was Great Barrier's first surfer?
Tryphena resident and retired island chemist Mike Gardiner can claim that title.
He first visited the island in 1957 fresh out of school and camped in a cave near the mouth of Kaitoke River, to bodysurf and dive.
In 1958 he and other members of the Piha Surf Life Saving Club were amazed when US Coastguard friends Rick Stone and Bing Copeland brought their Velzy longboards from the States.
Mike borrowed their boards and the American pair helped make new ones – insulated polystyrene covered with resin and chopped strand fibreglass – for their friends.
From Piha, Mike was among the first to surf Pakiri, then pioneered some of the breaks at Ōpunake in Taranaki.
In the summer of 1964-65, he and friends hired one of the two houses on Medlands, near the current quarry. Some visited for a few weeks, but Mike stayed eight months, deciding each morning whether it was a "surf day or a dive day".
He lived on what they speared and hunted, traded crayfish for veges, helped George Mason with the milking and cut scrub for Charlie Blackwell for seven shillings and sixpence an hour.
When the surf was up, he spent hours in the water, no wetsuit or leg rope on his Gordon Woods longboard. "They were the best days of my life."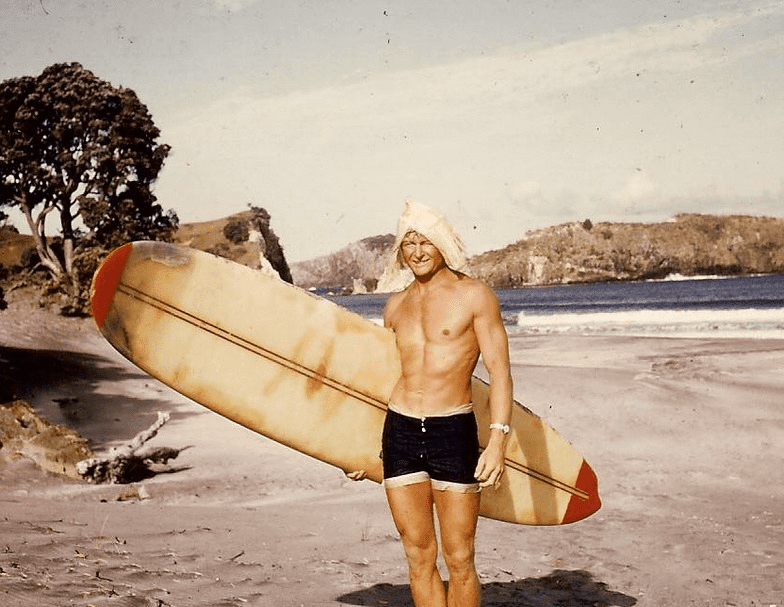 Mike and friend Phil Delaney announced Great Barrier Island as a surf destination in the third issue of New Zealand Surfer magazine.
With the surf pumping, Mike set up a camera on Memory Rock, co-opted a passing stranger and signalled him to trip the shutter with a touch of the board rail.
The images – which hung in Mike's chemist shop for many years – have become Barrier folklore.
Today, it doesn't take long for visitors to the island to realise a must-have item of clothing is an ABC hoodie or T.
Benny and Eve Bellerby are champions of Aotea Boardriders Club which they formed with friends in 2003 after snowboarding at Ohakune with the Southside Boardriders.
"It was social, they had a hoodies and were cool. We talked to a few mates living in a Skyline garage and set ABC up. We parked an old bus in Charlie's paddock where we could meet and keep our boards"
Aotea Boardriders Club is now an incorporated society with 50 members, an active committee and many volunteers, including some of the garage originals. ABC usually runs an annual island surf competition, a grommie comp and a contest with Mangawhai Board Riders Club. It offers surfing lessons, and – after a four year search for a suitable site – will open clubrooms at the south end of Medlands Beach in June.
The current ABC logo was created by island-raised graphic designer Max Thompson, based on an earlier design by an original club member who went by the name "Benny the dread."
Eve is in charge of clothing sales, the main fundraiser for ABC, and she sells around 500 logo items each year.
Benny is in the water with the kids most Tuesdays after school during term one and four, often helped by another club stalwart Renee Freeland, parents and the Sea Education Aotea Trust.
"It's a privilege being a teacher, helping them with wave and rip awareness", says Benny. "One in 10 will be frothing at it and you know you've started something that will take over their life."
Benny as a "frothing grommet" learned his craft from Dave Allison, an early local surfer who gave lessons at Medlands, or, when flat and westerly, off the boatramp at Tipi and Bob's.
When the surf was pumping, Benny and his mates caught lifts with the older surfers or hitched to be among a dozen on the breaks; locals and a few bach owners that had counted isobars in the Herald's long range forecast published twice a week.
"We get good waves here so everyone wants a piece of it," says Benny. "Internet forecasts and surfing's popularity has increased the numbers in the line up, but the game's just the same. There's always a bar manager, top dogs, young guns and grommies looking to take their places."
Benny is "semi-retired" from surfing to focus on their four children, aged between four and 11. He and Eve want to lay the foundations of a solid surf club for local riders so they can have access to competitions and meet other surfers after sessions in the waves.
"I love to see the kids at lessons, getting on a wave and the joy they find," says Eve.
She believes ABC has helped draw the broader community into the island's surf culture by creating a brand that is cool and everyone wants to be a part of.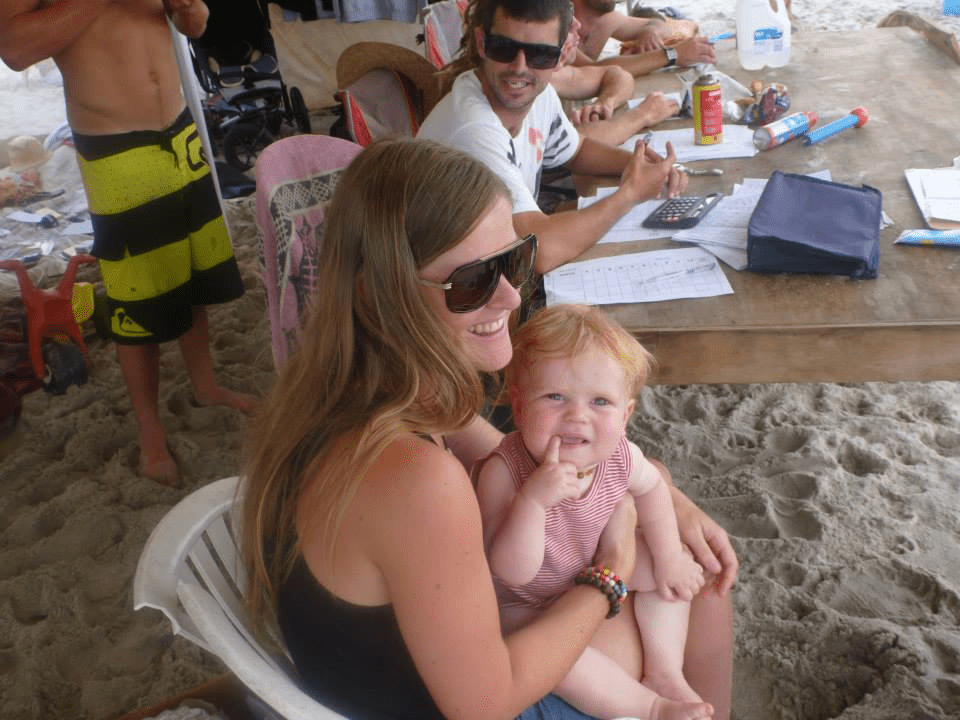 Written by Tim Higham, with the support of Destination Great Barrier Island.