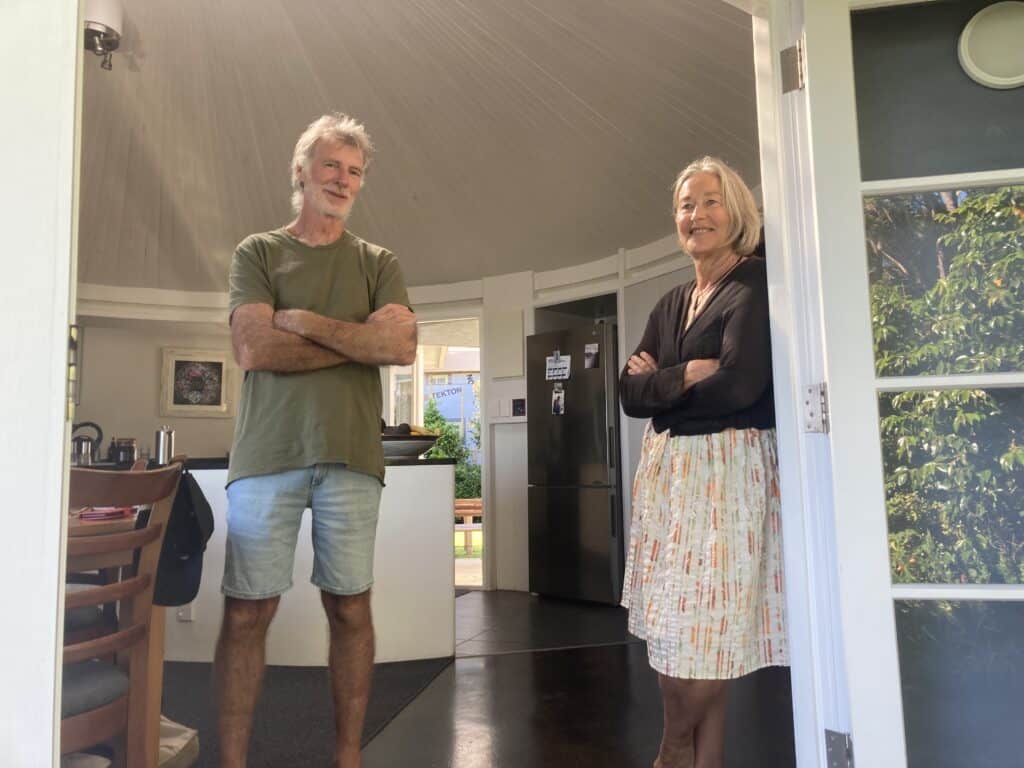 Aotea Live organiser Roger O'Shannessy and Robyn Grice in their round kitchen
There's plenty of days when Aotea shines, but a couple stand out as real performances.
Roger O'Shannessy and Robyn Grice live in a round-roomed, wood-lined house in the bush with a view to the sea. Kaka flock overhead and it's not unusual to see a Bryde's whale, orcas or dolphins in the bay below.
Roger has organised Aotea Live, an annual showcase of musical talent and a fundraiser for Aotea FM, for 10 years. He bowed out on Labour Weekend after another memorable night.
"Open mic nights have for a long time provided local musicians with an opportunity to perform and jam but Aotea Live was conceived with the intention of putting on an actual concert," he explains when I visit their hideaway.
A lot of effort goes into recruiting the line-up, setting up the stage and lights and making sure the sound is mixed well – for the last few years by Joe Revell – and with Robyn acting as MC on the night.
Each participant gets to perform three songs and this year Roger's were new compositions with a blues, folky 'Leonard Cohen' vibe. He admits to getting nervous. "Words are really important to me", he says, and Aotea Live is the only time the public will get to hear them.
At the concert he shared the second bracket with reggae singer, nursery manager Phillipp and rapper and spoken word poet Louis – Robyn's son and an old boy of Mulberry Grove school.
Local osteopath Nerissa, tyre repairman Shane, retired builder Stu, GP Julie Anne, nurse Michelle and high school student Stevie stepped into the spotlight in the first set, and for the last the chairs were packed away and singers Bree, Shane and Alan, and musicians MC and Stu combined to fill the Tryphena Club dance floor.
Stevie Mabey performs at Aotea Live 2020
"It's an amazing opportunity for collaborations," says Roger. "I love the days after the event, when people talk about the performances – there are often four or five different favourites."
Another 'performance day' on the Aotea calendar is the Spectacular by Nature Garden Tour, a fund raiser for the Great Barrier Island Community Health Trust.
Robyn also helps with that and says thousands of hours of volunteer effort go into preparing the gardens, organising buses and boats, baking scones and muffins, displaying tables of locally made products, run by the "tea men and women and tour leaders".
Health trustee Leonie Howie is the principal organiser of the tour which take place every November. This year four tours were arranged to 28 gardens in different parts of the island, matched to fitness levels.
Leonie Howie welcomes everyone to the Garden Tour
"The tours are essentially the same each year as very few gardeners chose to drop off. But the ones that do, I replace with new ones from a kind of waiting list," says Leonie. "People like to collect tours – do one each year until they have completed all four. One man has practically come each year of the 12 we've been running them."
I visit Leonie and her neighbours Frances McClure and Kim Bannister on Mason Road to get a sneak preview of what will be on offer.
When Frances bought the property 41 years ago it was mainly grassy paddocks with a few old pūriri and kahikatea trees. She started planting shelter belts "which changed the microclimate", then peach trees, then, increasingly, natives. "We've planted over 5,000 trees, but the birds must have planted 100,000," she explains.
With intensive rat control, the ground around old trees is now covered in abundant regrowth, and chevron skinks are frequent visitors to their architecturally designed, cedar-clad home nestled in the forest and gardens.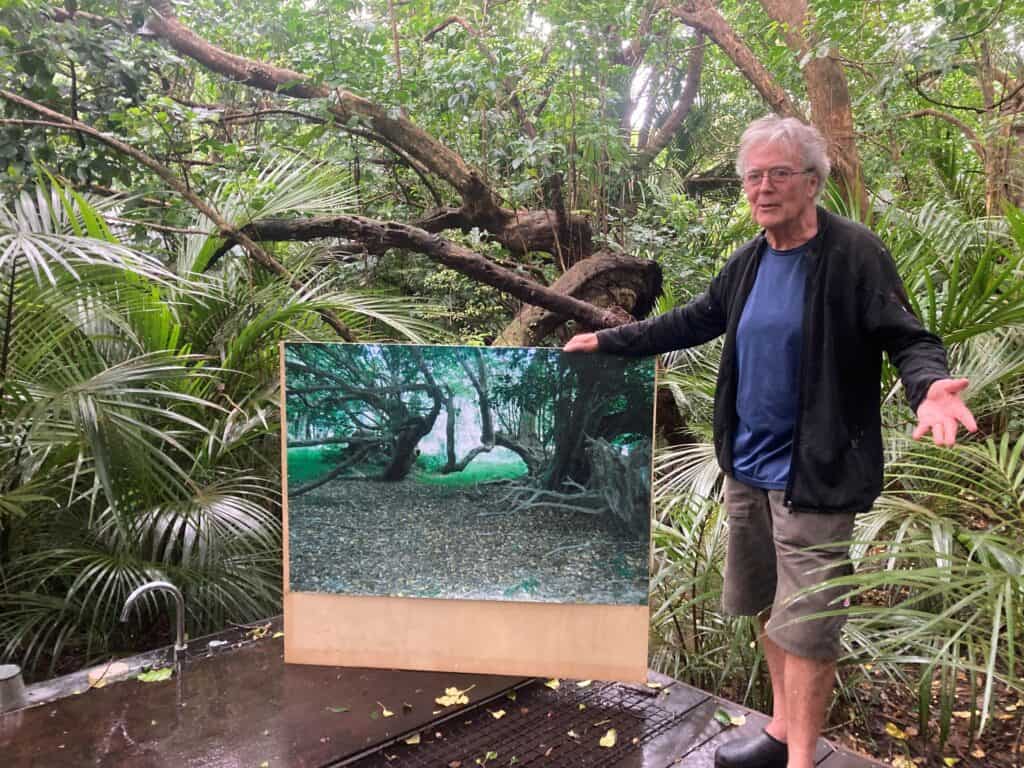 Kim Bannister shows the difference predator control makes
Next door Leonie and Ivan Howie's more formal garden beds, which surround generous verandas of their farmhouse-style home, are looking stunning. "The borders aren't always this neat and tidy, but they are in November for the garden tour," says Leonie.
Volunteering and fundraising for many trusts are a feature of island life and they provide visitors with a glimpse behind the scenes.
Next up on the island events calendar are the Santa Parade on December 3, the New Year's Picnic on January 2 and the Wingman Festival on January 28.
"People are usually more than happy to help when you ring them up," says Robyn, "and their efforts create a sense of belonging, of adding to the community, and help show what a colourful mix we all are."
Written by Tim Higham with the support of Destination Great Barrier Island